Hardware
Select and purchase the type and quantity of hand-held, wireless, barcode scanners you need.
Each warehouse employee that you envision using our system will need a scanner, e.g. order pickers, packers, stockers, etc. Each scanner needs a battery and charger. Batteries normally last a full work shift, after which the scanners are placed in a charger for overnight charging. Below are several options for you to choose from.
-- Barcoders.com sells the following tested and certified scanners --
NOTE: There are a lot of great scanners out there, but unfortunately we don't have the resources to support them all. Therefore, our company policy is that you must purchase scanners from us from the tested and certified list below.
*Recommended Product For SKUBANA* ** Brand New From Datalogic ** Skorpio X4.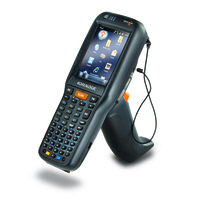 - Brand new in the box with new battery. Never used. Includes 1 year manufacturer's factory warranty through Datalogic.
- Larger screen rendition for our SKUBANA app. - Much faster processor than all previous Skorpio models.
- Faster radio communication algorithm than previous models.
- Color backlit touch screen.
- Windows CE7.0.
- WPA2 encryption, PCI compliant.
- Patented Green Dot Imager.
- Pistol grip included, 'front shooter' gun style.
- Includes wrist strap and stylus.
- 50 key alpha-numeric keypad.
- This model has no battery compartment cover! Means battery can be removed and replaced quickly!
- Scanner
$1,529 List
Your Price $1,200 each.
- Battery - New - Included
- Single-bay charger kit with AC and extra battery slot - New - $250 each
- Four bay, scanner cradle/charger new with AC adapter - $650 each
*Recommended Product For Stone Edge/MOM* ** Brand New From Zebra ** MC32N0.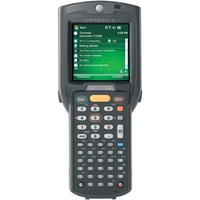 - Brand new in the box with new battery. Never used. - 1 year manufacturer's factory warranty through Zebra.
- 3nd Generation of the Motorola (Now Zebra) MC3xxx series, with TWICE the memory!
- Much faster processor than all previous MC3xxx series.
- Faster radio communication algorithm than previous models.
- Color backlit touch screen.
- Windows CE7.0.
- WPA2 encryption, PCI compliant.
- Imager, pistol grip, 'front shooter' gun style.
- 48 key alpha-numeric keypad.
- Includes wrist strap and stylus.
- This model has no battery compartment cover! Means battery can be removed and replaced quickly!
- Scanner $2,373 List Your Price $1,750 each.
- Battery - New - Included
- Single-bay charger kit with AC and battery adapter - New - $210 each
- Four bay, scanner cradle/charger (NEW) with AC adapter - $595 each
- Four bay, scanner cradle/charger (reconditioned) with AC adapter - $325 each

** Limited Quantity - New Old Stock ** Motorola MC32N0.
- Recommended for Stone Edge/Freestyle MOM.
- 3nd Generation of the Motorola (Now Zebra) MC3xxx series, with TWICE the memory!
- Much faster processor than all previous MC3xxx series.
- Faster radio communication algorithm than previous models.
- Color backlit touch screen.
- Windows CE7.0.
- WPA2 encryption, PCI compliant.
- Imager, pistol grip, 'front shooter' gun style.
- 48 key alpha-numeric keypad.
- Wrist strap and stylus.
- This model has no battery compartment cover! Means battery can be removed and replaced quickly!
- Scanner $2,273 List $1,250 each
- Battery - New old stock - Included
- Single-bay charger kit with AC and battery adapter - New - $210 each
- Four bay, scanner cradle/charger (new) with AC adapter - $425 each
- Four bay, scanner cradle/charger (reconditioned) with AC adapter - $325 each

Reconditioned** Motorola MC32N0.
- Recommended for Stone Edge/Freestyle MOM.
- 3nd Generation of the Motorola (Now Zebra) MC3xxx series, with TWICE the memory!
- Much faster processor than all previous MC3xxx series.
- Faster radio communication algorithm than previous models.
- Color backlit touch screen.
- Windows CE7.0.
- WPA2 encryption, PCI compliant.
- Imager, pistol grip, 'front shooter' gun style.
- 48 key alpha-numeric keypad.
- Wrist strap and stylus.
- This model has no battery compartment cover! Means battery can be removed and replaced quickly!
- Scanner $2,273 List $725 each
- Scanners may have cosmetic scratches, dings and signs of wear from previous use. - Battery - Used no warranty - Included
- Single-bay charger kit with AC and battery adapter - New - $210 each
- Four bay, scanner cradle/charger (new) with AC adapter - $425 each
- Four bay, scanner cradle/charger (reconditioned) with AC adapter - $325 each

Reconditioned** Datalogic Falcon X3/X3+
- Recommended for SKUBANA.
- These scanners offer the largest screen redition for our SKUBANA app.
- Easier scrolling.
- Color backlit touch screen.
- Windows CE6.0.
- WPA2 encryption, PCI compliant.
- Patented Green Dot Imager.
- Pistol grip included, 'front shooter' gun style.
- Includes wrist strap and stylus.
- 50 key alpha-numeric keypad.
- This model has no battery compartment cover! Means battery can be removed and replaced quickly!
- Falcon X3 Scanner $1,599 List Your Price $660 each.
- Falcon X3+ Scanner $1,790 List Your Price $700 each. (Limited quantity available).
- Battery - Used no warranty - Included
- Single-bay charger kit with AC and extra battery slot - Reconditioned - $225 each
- Four bay, scanner cradle/charger with AC adapter - $550 each